Follow us on Facebook to keep up on the latest information about our club.
​Green Tree Elementary School Choir Holiday Concert

The annual holiday concert by the Green Tree Elementary School Choir occurs on December 20, Friday morning, 7am, at the Lake Saint Louis Ambassadors Meeting, LSLCA Clubhouse, 100 Cognac Court. The public is invited for this festive event. The choir is led by Julie Albertson, Music Educator and Choral Director at the school. Refreshments will be provided, including Bob Evans Restaurant breakfast breads. And, we are expecting a visit again from someone who lives near the North Pole!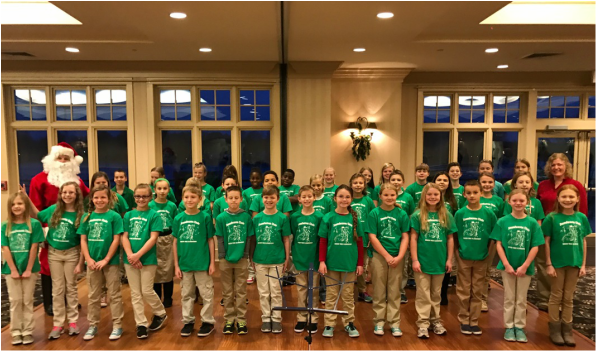 Ambassadors Learn about Senior Helpers

Janet Quinn of Lake St Louis Senior Helpers spoke to the Ambassadors about services provided by their staff members. First, Senior Helpers is a National franchise which has three franchises in the St Louis area and the one in Lake St Louis is owned by Don and Donna Johnson. They provide in-home, non-medical care giving including toileting, cooking, cleaning, and companionship.

They do health fairs in the community at YMCAs, senior res

idences, churches, etc. They work with Hospice groups and provide life alerts to their clients. Most employees are CNAs but a few are RNs if that care is required. Fees run $35/ hour for one hour but usually a 3 hr minimum is required which runs about $22/hr. For 24 hr service, fees could be as low as $9-$10/hr. They help Veterans coordinate with the VA and get funding for veteran care initiated. Driving services can be provided on a mileage basis, at $0.50/ mile or your car can be used at a different rate. Their employees are bonded and insured. They offer a free in-home assessment of your loved one's needs to match caregivers to their needs.
For more info call 636-200-6176 or go to https://www.seniorhelpers.com/mo/lake-st-louis.

---

The County Police Chief Speaks

St. Charles County Police Chief David Todd was the guest speaker at the 11/22 Ambassadors meeting. He talked at length about how the police departments across St. Charles County are working closely together to serve the residents of the county. He is strongly supported by his boss county Executive Steve Ehlmann. He stressed over and over how important it is to lock your home and cars if they are left out on the street. The robberies and home invasions are now common occurrences in St. Charles county so there is no good argument for making it easy for them. While crime is increasing, he has had to cut his budget by $300,000 this year and there will be no increase in the number of police officers next year. This partially due to the decrease in sales tax collections because more people are shopping online. When you see a police officer, no matter what logo is on his uniform, thank him or her for their service. There job is getting harder every day.​

Our next meeting will be December 6th. The speaker will be Janet Quinn, Senior Helpers.

---

About the Ambassadors


The Ambassadors of Lake Saint Louis is a community service organization that truly cares about the City of Lake Saint Louis and its people. Our not-for-profit club is dedicated to promoting civic, cultural, and educational growth of our city; and we strive to make it a better place to live, work, and play. Membership is open to all individuals who want to see Lake Saint Louis prosper, want to learn more about our community, and want to stay in the mainstream of local happenings. The Ambassadors meet every Friday morning from 7 to 8 a.m. at the Community Association Clubhouse. Please join us for breakfast and a pertinent presentation on a topic of community interest. To support the club's activities, quarterly dues of $75 are received. The Ambassadors take part in numerous activities designed to provide support for community organizations and local charities. Many of these activities are described on other pages of our website. If you care about Lake Saint Louis, you need to be an Ambassador!


Interested in Joining?

It is easy to join our club. Contact a club officer or one of our members to learn more about the club, or just show up for a Friday morning meeting at the Lake Saint Louis Community Association Clubhouse at 7 am. Breakfast is catered by Bob Evans Restaurant. A schedule of speakers at our Friday morning meetings can be found on the right.


---

FUTURE SPEAKERS

​Dec 13 mary lapel WSD, Timberland Student Council-hosting State Convention.
Dec 20 Green Tree elementary School Chior
Dec 27 No Meeting, Christmas holiday
Jan 3 No Meeting
Jan 10 Cheryl Moellenhoeff, Cross Roads Clinic
Jan 17 Jay Quattlebaum, Primero Agua
​Jan 24 Jim Higgins, SCC Veterans Museum
​Jan 31 Kathy Schweizer, LSL Update
Feb 7 Don Hammond, Ambassador yearend financial report
Feb 14 Daryl Perkins, Teawork made easier
Feb 21 Diane Rasom, Wentzville Community Club
Feb 28 Mark Hollander, Vision St. Charles
Mar 6 Jim Ruedin, The Delta Center
Mar 13
Mar 20
Mar 27
Apr 3
Apr 10
Apr 17
Apr 24
May 1 Ratched Rockers Robotics (Jeff Stone)
May 8 John Swanson, History Stories
​
​ .
.
.
May 1 Ratchet Rockers Robotics
May 8 John Swanson History Stories
​
​*** To review past speaker presentations, click the 'Speakers' tab above.

Lake St. Louise
Links to Other Community Sites