The CPR Class Was A Success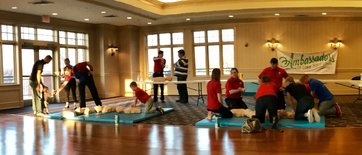 On March 20 the St. Charles County Ambulance District (SCCAD) team came to the CA Clubhouse and instructed 65 souls on the proper way to provide CPR. That is 15 more than last year. This year, we had families with young kids take the training and a lot of people walk away happy with the info and knowledge they gained. The SCCAD team members do this on their own time without pay and have educated 750 people so far this year.

The Ambassadors intend to coordinate this event again next year to get as many people educated as we can.



---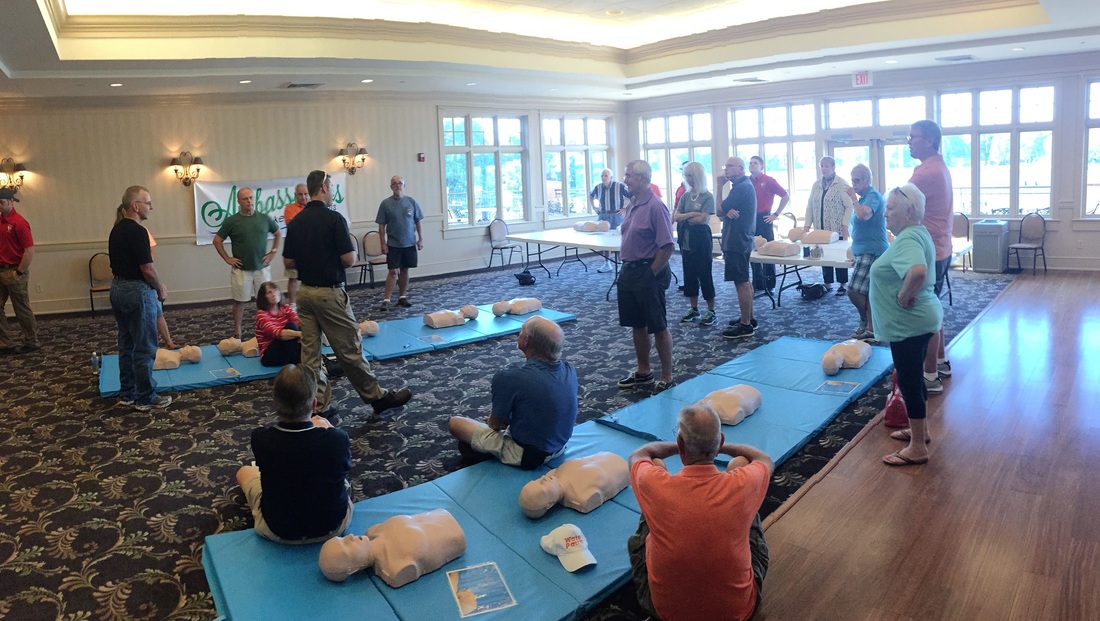 We are pleased to announce that 62 LSL citizens took advantage of the Lifesaver CPR class on 9/12. We again thank the individuals from the Saint Charles County Ambulance District (SCCAD) for providing this outstanding community service.
LIFESAVER CPR SESSIONS

The Lake St Louis Ambassadors organization is hosting a
Lifesaver CPR class
, which will be conducted and presented by Saint Charles County Ambulance District (SCAAD)
Join us at the LSL Community Association Club House at 100 Cognac, LSL, MO on
Monday, September 12, 2016. Sessions start at 5:30 p.m. and end at 8:00 p.m
. These are one-on-one interactions. An average session takes about 15 minutes. You will work one-on-one at your own pace with a SCCAD Paramedic.
The LIFESAVER CPR session is designed to provide lay rescuers with the key skills needed to help a victim of sudden cardiac arrest. It is not an American Heart Association or Red Cross program and does not provide attendees a certification card.
REASONS TO ATTEND
It's Free
Convenient - It is an open format so it works to your schedule
Quick – Able to train most participants in about 15 minutes
Family Friendly – All ages are invited to participate
Individualized – Work one on one with a SCCAD paramedic.
Open to all citizens of Lake Saint Louis
Please RSVP by emailing lslambassadors@gmail.com
---
It's About Time for Fireworks in Lake St. Louis.
​The road over the dam on the big lake will be closed on July 4th, and all fireworks will be launched from the dam as we have done for many years. Again this year, there will be music broadcast with the fireworks on FM 98.7. You can view the fireworks from a boat on the lake (it is very crowded), from parking lots on either side of the dam or from private residences, on/along streets, or on public areas that provide a view of the dam from across the lake. All of this begins shortly after dark (VERY DARK).

Donations are still appreciated. Donate below.
Our Fireworks/Fall Festival campaign is underway. Click the Donate button below to make your contribution or watch your mailbox for other donation options. Thank you for your support.

Ambassadors 2016/2017 College Scholarships
The Ambassadors of Lake St. Louis again will award college scholarships to two deserving high school seniors who live within the city limits of Lake St. Louis and plan to attend an accredited two or four year college/university in the state of Missouri during the 2016/2017 academic year. Each Ambassador scholarship will be $1250 for use during the first year of college. Selection criteria, in addition to being a college-bound senior from Lake St. Louis, include the applicant's academic standing, financial need, community service record, and extracurricular activities. Wentzville High School students should obtain further instructions and application forms from their academic counselor. Other area senior students may obtain these materials from a WHS counselor or directly from this website (see above link) or the club. The application deadline for this scholarship is Friday, March 11, 2016.
​
Ambassadors again to host the Lake Saint Louis Fall Festival on Saturday, September 19, 2015


The Ambassadors of Lake Saint Louis is working with the Lake Saint Louis Ski Club, Mothers Club, Sea Lions Swim Team, City, Community Association, SSM St. Joseph Hospital West, and Lake Saint Louis First Bank to provide an exciting afternoon and evening for the entire family.

A 5K Run the Lakes begins at 11 am

in the upper parking lot of the Lake Saint Louis Community Association Clubhouse at 100 Cognac Court on the little lake (Lake Saint Louise). Parking will be very limited in this lot and runners are encouraged to get dropped-off by family or friends, meeting them again at the finish line at the main site of the Festival. The finish line is a wide concrete path along the large lake (Lake Saint Louis) behind SSM St. Joseph Hospital West and adjacent to Windjammer Point. At approximately 12:30 pm, participants in a

one mile fun run/walk

will start an out and back loop on this concrete pathway near the east side of the SSM Koenig medical building. Participants in both the 5K and fun run/walk will be able to pledge their entry fees towards a Lake Saint Louis club or organization.

Also beginning at noon will be food and drink sales at Windjammer Point, information tables and demonstrations by Lake Saint Louis clubs and businesses at Windjammer or the nearby hospital grounds, safety and health presentations, and kids and family activities.

Elsa and Anna from the movie Frozen along with other Disney princesses will make an appearance during the afternoon.

The Lake Saint Louis Sailing and Paddling Club will have a kayak race in the Festival cove, and the Lake Saint Louis Water Ski Club will present a show on the lake off of Windjammer Point at 5:30 pm.

These activities (except for food and drink sales) will wind down by 6:30 pm as the City has scheduled

Butch Wax and the Hollywoods to play at the Pavilion at Windjammer Point from 7 until 10 pm

, as the concluding performance in the 2015 Music on the Lake Series. Because beer and wine will be sold during the Festival and concluding musical event on Windjammer Point, no other alcoholic beverages (including in private coolers) will be allowed on the site.

The planning clubs and organizations continue to seek Festival sponsors and participation by Lake Saint Louis clubs and organizations. Remember that the two runs offer an opportunity for all Lake Saint Louis clubs and organizations to raise funds by encouraging members and friends to participate! This Fall Festival is truly a community picnic. Tell others about the Festival, and

mark your calendars for September 19.To download Festival information, sponsor information and forms, and the 5K and one-mile run/walk entry form

, please visit the Festival DropBox by clicking

here

. More information, including list of sponsors and a schedule of events will be added soon. Please contact Scott Ellis

(636-357-8580

,

scottcarolellis@gmail.com

) with questions.

Thanks for your support of the Lake Saint Louis 2015 fireworks!!


Many Lake Saint Louis residents and friends enjoyed the 2015 July 4th fireworks presentation. Thousands watched from both sides of the dam, from nearby businesses and residences, and from boats on the lake. Again this year, a musical FM broadcast accompanied the fireworks. Thanks go out to all who helped support this event through donations and time. And, please consider donating now to the July 4, 2016, fireworks and music event. The costs associated to put on this annual event continue to increase. You may make a donation through this website or by sending a check to our mailbox at: Ambassadors of Lake Saint Louis, 100 Cognac Court, Lake Saint Louis, MO, 63367. THANKS!!


Kaley Lammert and Kyle Peters are 2015 Scholarship Winners


The Ambassadors of Lake Saint Louis again in 2015 have awarded two college scholarships to area students. Each award is $1250 towards expenses for the first year of college. Students must be a Lake Saint Louis resident and a high school senior planning to attend in the fall a Missouri university/college. Students must have achieved high academic success, have financial need, and participated in both high school clubs and community service activities. Kaley Lammert, a senior at Timberland High School, plans to major in business at the University of Missouri-Columbia. Kyle Peters, a senior at Holt High School, plans to major in pre-medicine at Saint Louis University. Both students attended with parents a recent Friday morning Ambassadors meeting to meet club members. More information about the Ambassadors may be found on their website at

www.lslambassadors.com

.

---

Lake Saint Louis Again Recognized As A Best Place To Live and Retire In 2011


Back in 2009, the City of Lake Saint Louis was recognized by Money Magazine among the top 100 small towns in the USA as a "best place to live". That same year, the City also was recognized by Money Magazine among the top 25 cities in the USA as a "best place to retire". Now in 2011, the City again has been featured in national magazines. US News and World Report includes Lake Saint Louis among 19 cities in Missouri as a "best place to retire", and Money Magazine again lists Lake Saint Louis as a "best place to live" among 100 small towns in the USA. Affordable housing, strong civic leadership, educational and economic opportunities, an abundance of community activities, and proximity to nearby dining, shopping, and entertainment characterize the City. Read more at these websites:

Money Magazine 2009 (Best Places to Live)

,

Money Magazine 2009 (Best Places to Retire)

,

Money Magazine 2011 (Best Places to Live)

, and

US News and World Report 2011 (Best Places to Retire)

.




---


Lake Saint Louis City-wide E-Mail List


Follow

this link

to subscribe to the Lake Saint Louis email notification system.